Wholesale Prices Continue Spring Bounce
Wholesale used-vehicle prices (on a mix-, mileage-, and seasonally adjusted basis) increased 1.81% month-over-month in April. This brought the Manheim Used Vehicle Value Index to 138.4, a 4.5% increase from a year ago.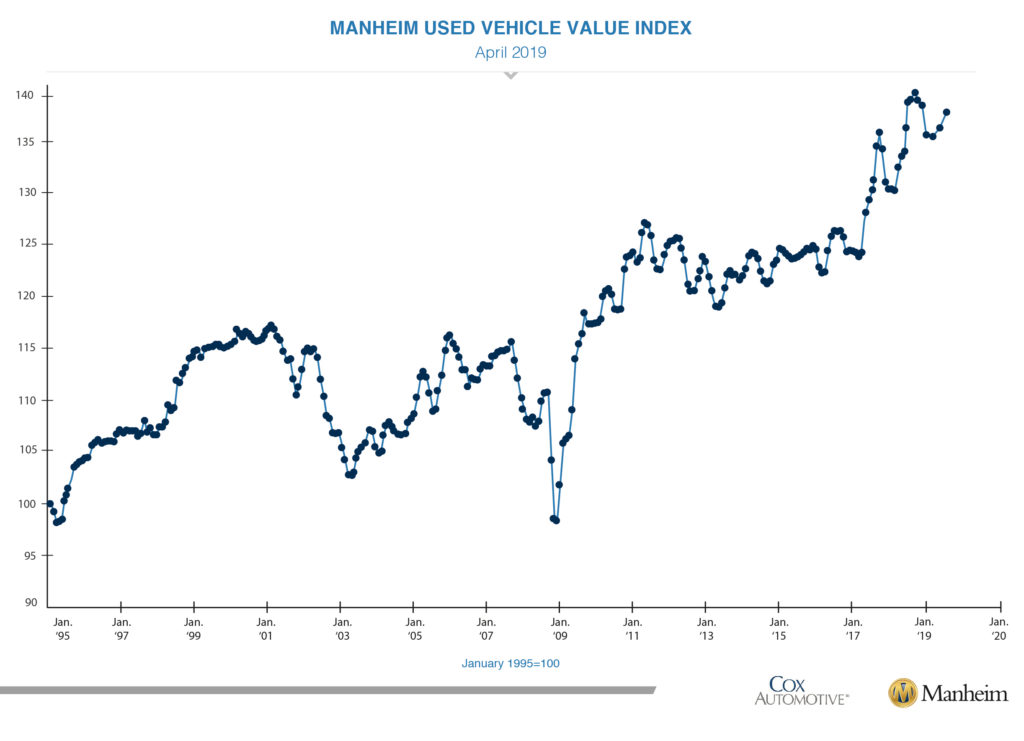 Looking at trends in weekly Manheim Market Report (MMR) prices, April began with the traditional spring bounce continuing in appreciating values. Three-year-old vehicle values in aggregate saw gains in the first two weeks of April, which pushed prices higher than the beginning of the year. The month ended with aggregate prices stable but non-luxury prices continuing to see gains.
On a year-over-year basis, most major market segments saw seasonally adjusted price gains in April. Midsize cars and pickups outperformed the overall market, while all other major segments underperformed the overall market.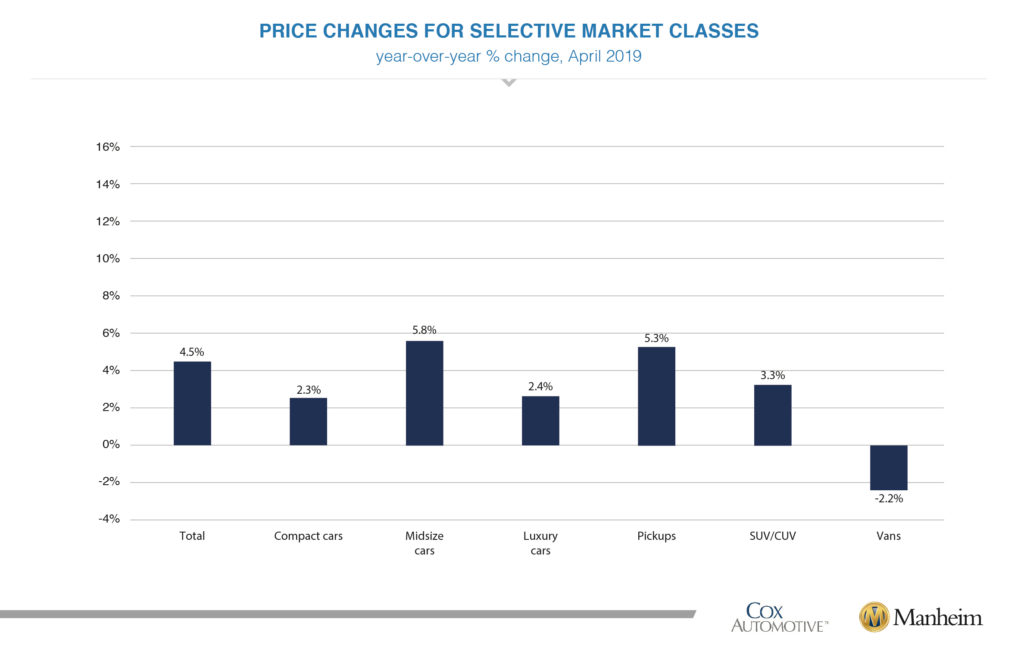 Mixed retail results for vehicle sales in April. According to Cox Automotive estimates, used-vehicle sales volume was up 3.0% year-over-year in April. We estimate the April used SAAR to be 39.3 million, up from 38.1 million last April and up from March's 39.0 million rate.
Unlike the used market, the new-vehicle market showed weakness in April. April new vehicle sales were down 1.7% year-over-year, even with one more selling day compared to April 2018. The April SAAR came in at 16.4 million, declining versus last year's 17.2 million and March's 17.4 million rate. Cars continue to see declines, as sales in April fell 7.5% compared to last year. Light trucks outperformed cars in April, finishing the month up 1.0% year-over-year.
Combined rental, commercial and government purchases of new vehicles were down 0.9% year-over-year in April, and down 24% month-over-month. Commercial (+11%) and government (+1%) fleet channels were up year-over-year in April. New-vehicle retail sales were down 2% in April, leading to a retail SAAR of 13.5 million, down from 14.1 million last April.
New-vehicle inventories came in above 4 million units for the third consecutive month.
Rental risk pricing improves. The average price for rental risk units sold at auction in April was up 2% year-over-year. Rental risk prices were up 5% compared to March. Average mileage for rental risk units in April (at 45,000 miles) was up 3.5% compared to a year ago and down 1% month-over-month.
Favorable economic growth among mixed conditions. The first estimate of first-quarter real GDP growth came in at 3.2% and reversed a downward growth trend over the preceding two quarters. Consumer spending was weak, increasing only 1.2%. New and existing home sales trended differently in March to continue to give us mixed signals about the housing market. The existing home sales SAAR declined 4.9% in March. The pace of existing home sales is now down 5.4% from a year ago. The new home sales SAAR increased 4.5% in March. The pace of new home sales is now up 3% from a year ago. April saw strong job creation of 263,000 jobs, and the unemployment rate fell to 3.6%, a 50-year low.
The Manheim Used Vehicle Value Index data file is available for download here.
Source: Cox Automotive